Posts tagged: Al Qaeda
WhoWhatWhy editor Russ Baker interviewed on drone strikes, strategy regarding the Taliban, policy towards Pakistan, and the situation in Syria.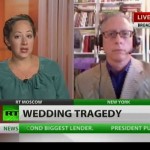 Russ Baker talks about unanswered questions surrounding the Sept. 11, 2001 attacks: Coast to Coast AM, radio stations everywhere. 11pm-2am Pacific Time, Sunday 9/11; 2-5am Eastern Time Monday.
For stations in the US, Canada etc (and online worldwide), see this list: http://www.coasttocoastam.com/stations